Regular price
$ 38.95 USD
Regular price
$ 59.95 USD
Sale price
$ 38.95 USD
Unit price
per
Sale
Sold out
Introducing the Starry Sky Galaxy Projector: Explore the wonders of the universe right from the comfort of your own home with our easy-to-use galaxy projector. Let's dive into the features and see how to use this incredible planetarium star projector lamp.
Features:
12-in-1 Planetarium Projector: Immerse yourself in a variety of virtual worlds with our 12 display scenarios. From the solar system to celestial planets, deep space, and galaxies, each projection is designed to spark your imagination and ignite a sense of wonder.

Multiple Display Modes Optional: Take full control of your starry experience by independently controlling the movie lights and side star lights. Create a soothing sleep environment with no disruptive noise. Additionally, you can activate the star rotation feature for a stunning and dynamic display.

 The Starry Sky Galaxy Projector ensures clear and vivid imaging. Adjust the focal length to fit your desired projection distance and enjoy a crisp, detailed view of the cosmos. Perfect for transforming any room into Space.

Easy to Use: Designed with simplicity in mind, this projector requires just three easy steps to transport you into a planetarium-like visual experience. Insert the film, turn on the switch, and adjust the focus. 

Great Gift for Kids: Crafted with high-quality ABS material and a film imaging principle that ensures no harm to children's eyes, this projector is safe and captivating. The 360° rotatable body allows you to project scenes onto ceilings, walls, and floors, stimulating curiosity and imagination. It's the perfect educational gift for kids and an ideal choice for home parties, home theaters, Christmas decorations, Valentine's Day presents, and room decorations.                                                                                                                                                                                                                                                                                 

How to Use This Starry Sky Galaxy Projector:

Insert the Film: Begin by inserting your desired film sheet into the projector. With 12 captivating display scenarios, including the Solar System, Earth, the Moon, the Milky Way, and more, you'll have an array of virtual worlds to choose from. Let your imagination soar!

Press the Switch: Simply press the switch button to power on the projector and bring the magic to life. Watch as the stunning celestial scenes and mesmerizing starry lights illuminate your surroundings, creating a captivating atmosphere.

Adjust the Focus: Twist the top screw ring to adjust the focal length and achieve clear, high-definition projections. With a projection distance of up to 5 meters and a coverage area of 134㎡, you can transform any room into a captivating galaxy.

  
Embark on a cosmic journey from the comfort of your own space. Get ready to be mesmerized by the enchanting beauty of our Planetarium Star Projector Lamp. Experience the magic of the universe and let your imagination reach new heights.
Perfect Gift For Every Space Lover!
LIMITED TIME ONLY. Not sold in stores.
Free Shipping Worldwide!
Due to high demand, please allow 6-8 business days for delivery. For more information about shipping time check our Shipping section. 
Your satisfaction is our priority. Feel free to contact us with any questions.
Share
View full details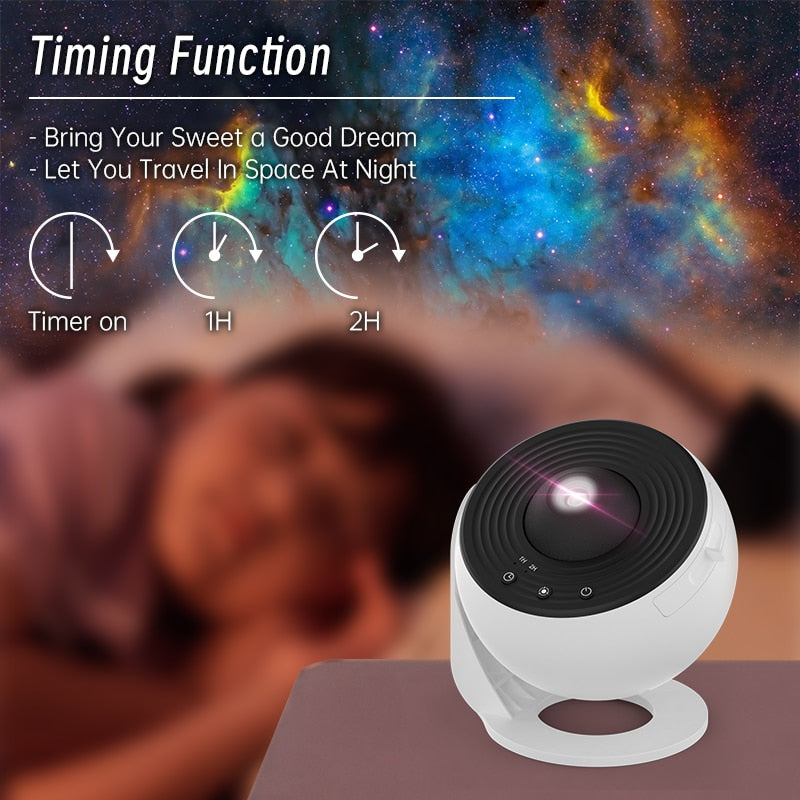 Free Shipping

Free International Shipping on all orders!